Upcoming Events
Political Academy: Module 3
Date: 28 – 29 March 2015
Place: AK Party Brussels Office
Political Academy: Module 4
Date: 25 – 26 April 2015
Place: AK Party Brussels Office
Political Academy: Module 5
Date: 30 – 31 May 2015
Place: AK Party Brussels Office
Political Academy: Certificate Ceremony
Date: 31 May 2015
Place: AK Party Brussels Office
Past Events

Political Academy: Module 2
Date: 28 February – 1 March 2015
Place: AK Party Brussels Office
Political Academy: Module 1
Date: 31 January – 1 February 2015
Place: AK Party Brussels Office
Conference: Understanding the Transformation; AK Party Era in Turkey - Etyen Mahçupyan
Date: 2 February 2015
Place: European Parliament
Excerpt from Etyen Mahcupyan's Speech – Transformation of Turkey

Thank you very much. I am really glad to be here tonight. We have a very controversial issue on our hands. On the one hand we have allegations accusations of pressure on freedom of press, violation of separation of powers, the issue of being more authoritarian, corruption accusations... Now we have a list like that on the one side and if this list has anything of substance, then surely you would expect that the AK party shouldn't stay in power and fail either in governance or during the elections or both; but the fact is that what we see is on the contrary. Now this government is one of the most successful governments in the republic, maybe the most successful. They have quite stable governance in a milieu, where a very unstable environment exists, and also they managed to get to win all the elections with increasing votes. So my question is how come? And this is what I will try to answer.

There are two observations, one is quite simple and the other is more complex. The simple observation is that we are coming to the end of something and that something is the republic or Kemalist republic as you may know it.

Now, when I say something is coming to the end, this republic as you know it, you have to see that this is also closing a parenthesis of 80-90 years, of a historical period and you have to realize that there is no turning back now. Turkey will be something else, other than what it was. You don't know what. You will see that, but it will not go back to the old days. And when I try to explain the second point, the complex observation as I called it, I hope everyone will see that, in fact what is happening in Turkey today is a backlash of history. Something has happened in history and now there is a reaction to it, a very fundamental reaction, and that's why there will be no going back to the old days.

What is this complex observation? It is a socio-cultural and mental transformation, happened in the Islamic community in Turkey in the last 30 years. We have the first wave of transformation from the mid 1980's till 2000 – 2001 and then a second phase of transformation starting with the AK party during 2002 until today. So my presentation will be consisting of five subjects; first transformation till 2000 and then I want to dwell on AK Party, what kind of party is this what kind of aims what kind of mission and so on so forth and then the second phase till today, then I want to tackle the question, how come they were successful in doing this, what were the gadgets? And lastly I want to dwell on the threat perception existing in AK Party and in its constituents today this is very crucial and if you don't understand this threat perception that exist in Turkey today it is impossible to understand why AK Party is doing this or that and how come it is welcomed.

So first the transformation is started from 1985 till 2000... First I have to stress that there was a change before that the change was in the environment so the world change before Turkey has started to change. And the change in the world was basically standing on two axes: one is the globalisation which kind of enforced religions to come forward and also some new identities they were not new but they were kind of archaic, through the eyes of modernity. Like the Muslim identity for example. Globalisation made the Muslim identity very important identity because it was a global one, compared to the ethnic identities. For example in the Middle East, which Turkey sort of neighbours... The second was the post modern, critique of modernity, which was now available within the Muslim intelligentsia in the nineties now what did it say, it said that modernity was not able to solve this problem anymore and in fact modernity was creating problems and this gave a huge self confidence to the new Muslim Youth and if you connect these two, the Muslim identity coming forward and self confidence and so on, once one and ask the question what kind of future you will envision for the World?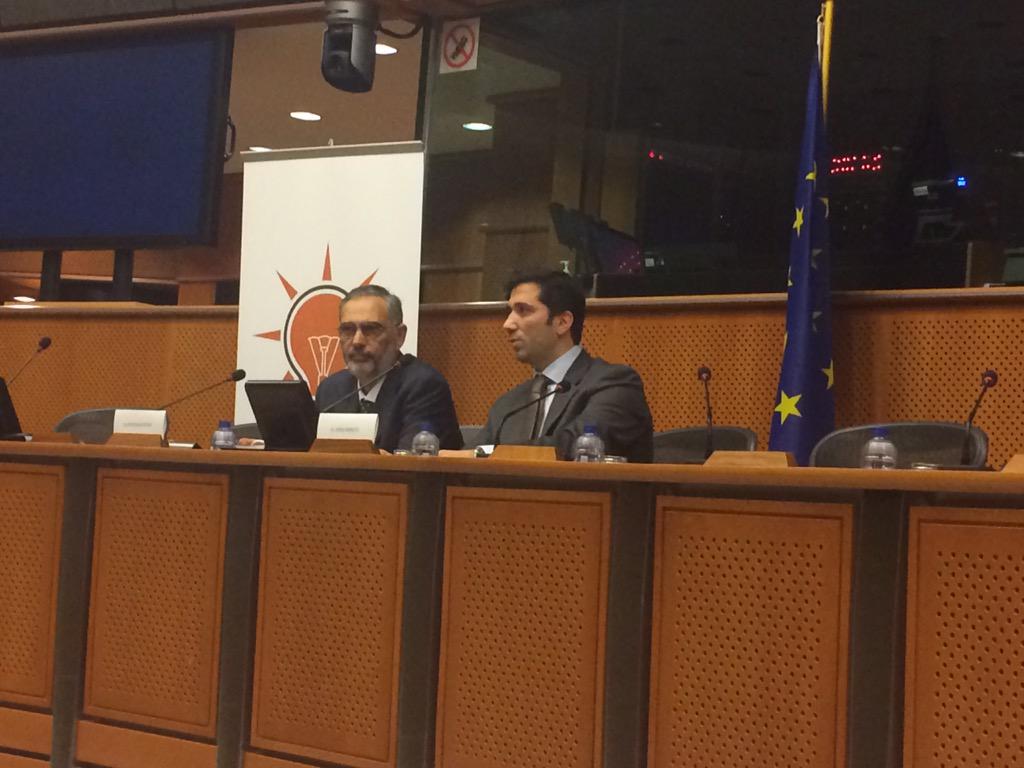 Conference: Turkish-Kurdish on the Basis of 'Common Fate' and the Solution Process
Date: 30 January 2015
Place: AK Party Brussels Office
Official Opening Ceremony: AK Party Brussels Representative Office - His Excellency, Professor Ahmet Davutoglu, Prime Minister of the Turkish Republic
Date: 15 January 2015
Place: AK Party Brussels Office
Symposium: Sing Each Others' Song
Date: 11 December 2014
Place: European Parliament
Conference: The Syrian Refugee Crisis - Prof. Dr. Yasin Aktay, Jean-Louis De Brouwer, Bořivoj Hnízdo PhD, Matthias Mogge, Emmy Takashi
Date: 3 December 2014
Place: European Parliament
Conference: The New Middle East and Turkish Policy - Prof. Dr. Yasin Aktay
Date: 18 November 2014
Place: AK Party Brussels Office